I've helped thousands of bloggers start and grow their blog. Let me show you how to start, grow and monetize your blog!
Update: HostGator currently has a deal that gives you your domain name, web hosting and email starting at $3 a month! This is a great deal!
Do you want to know how to create your own blog? Then you're in the right place because today I'm going to show you how to start a WordPress blog for beginners step-by-step.
Some years ago, when I decided to start my own self-hosted WordPress blog, I knew nothing about the steps it took to get there. The process of creating my own blog was definitely a little confusing because I had to figure it all out on my own.
Thanks to some patience, and lots of tutorials on the web, I was eventually able to get my blog set up. Looking back I think to myself, boy, wouldn't it be nice if I had stumbled upon one resource that went through the entire process from start to finish?
In this tutorial, I will teach you how to create your own blog from start to finish.
How to Start a WordPress Blog for Beginners

If you're ready to get started, here are the 9 steps we will cover in this tutorial. To jump to a step, click the link below.
---
---
Step 1. Choose Your Domain Name
When choosing your domain name, ask yourself these questions:
1. Does it reflect my brand or personality? Can you see yourself building your brand around this name?
2. Is it too long? You want your domain name to be some something that is easy to remember as well as type. I recommend avoiding hyphens and numbers (for example: tiffany-blogs4you.com).
3. Does it have longevity? Is this a name you'll love for years to come? You may be blogging as a hobby now, but what about if your blog gets big. Will you be happy with this name?
A. Choosing Your Extension
With the hundreds of extensions available and the increasing popularity of some of those extensions, .com continues to rule. For that reason, if you have the choice, I always recommend going with .com.
If .com isn't available, some alternatives you could consider are:
.net
.info
.co (rising in popularity with bloggers)
.biz
.blog
If possible, I recommend purchasing both the .com and .net extension for your domain name. This will prevent someone else from purchasing the extension. For example, I own both beautifuldawndesigns.com and beautifuldawndesigns.net.
B. Check the Availability
Social Media
Before choosing your domain name, I recommend making sure it's available on all of the popular social networking sites (Facebook, Twitter, Pinterest, Snapchat, Instagram, YouTube, etc).
This will make your brand cohesive across the internet. It will also make it easier for your readers to find you across all online platforms.
Because there are millions of active social media accounts, I know that it isn't always possible to secure your name across all platform. However, if you can get something close (like adding a hyphen to your social media profile name) that works well too.
I know choosing a domain name can be difficult, but there's no rush. Take your time on this. Once you've come up with the perfect domain name, you'll know it!
Trademarks
You might also want to consider making sure your domain hasn't already been trademarked. To avoid any legal issues down the road, I recommend staying away from names that have been trademarked.
You can use the website knowem to check the trademark database as well as the database of over 500 popular social media networks.
C. Try a Domain Name Generator
For a little inspiration when choosing your domain name, try playing around with a few domain name generators. Here are a few to get you started:
D. Cost of Domain a Name
Depending on the company you purchase your domain name from, a domain name can cost anywhere from $10-$15 per year.
There are times when you can find domain names as low as $1.99, but keep in mind that this price is typically for the first year only. After that, the price typically goes up to the $10-$15 price range per year.
After you purchase your domain name, you will continue to pay for it as long as you want to own it.
When paying for your domain name, you typically have two options:
Pay for it annually.
Pay for multiple years at a time.
Whichever payment schedule you choose, be sure to keep track of your next payment due date. You wouldn't want to lose your domain name because you forgot to make your payment.
Also, if you're using auto billing, be sure you keep your payment information up to date. Again, you don't want to lose your domain name because your billing information was outdated.
When it comes to choosing your domain name, there's no rush. Take your time. After all, this will be the name of your blog for years to come.
---
---
Step 2. Purchase Your Domain Name and Hosting
For hosting, I can't recommend HostGator highly enough. This is the web host I use for Beautiful Dawn Designs. I have always received great customer service from them. You are free to choose any host, however, for the sake of this tutorial we will be working with my host, HostGator.
1. Head over to HostGator and click on Hosting > Web Hosting near the top of the page.

2. Choose the hosting plan that best suits your needs.
The "Hatchling Plan" and the "Baby Plan" are quite similar. The only difference between the two are as follows:
Hatchling Plan
Supports hosting for 1 domain
Cannot add-on an SSL certificate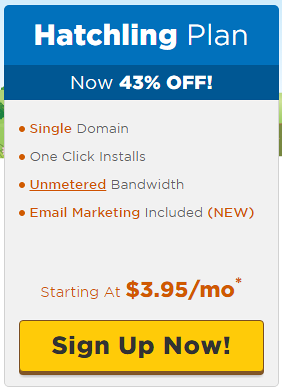 Baby Plan
Supports hosting for unlimited domains
Allows you to add-on an SSL certificate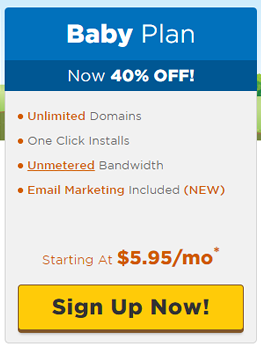 What is an SSL Certificate?
SSL stands for "Secure Sockets Layer." An SSL certificate is a security certificate that helps protect the connection between a server (your blog) and a web browser (the person visiting your blog). An SSL certificate helps keep sensitive information safe. For example, if you someone inputs personal details like their name, address, or credit card information on an online form, that information is kept safe through the SSL certificate.
When you purchase an SSL certificate, instead of your data loading through HTTP, it will load through HTTPS. The "s" indicates "secure."
In the browser bar, sites that are secure will display a green lock in the browser bar and state that the connection is secure.
Secure (https)

Sites that are not secure will display an information symbol in the browser bar and state that the site is not secure.
Not Secure (http)

Do you need an SSL Certificate?
If you plan to collect sensitive personal information such as customer's credit card information, having an SSL certificate is a MUST. If you plan to collect personal information such as names and emails addresses, I also recommend purchasing an SSL certificate. You will choose the "Baby Plan" if you want to add-on an SSL certificate.
If you have no plans of collecting personal information, you do not need an SSL certificate. You can choose the "Hatchling Plan" if do not want to add-on an SSL certificate.
3. Once you've chosen your plan, click on "Sign Up Now!"

4. To register your domain, in the section titled "1: Choose a Domain," enter your desired domain name.
Note: If you're already purchased your domain name, I'll show you how to connect it to your new blog in Step 3. If you already have your domain name, you can ignore the Choose a Domain section and purchase hosting only.

After selecting your domain name, you will be asked if you want to purchase "Domain Privacy Protection." This is optional. Whenever a domain is registered, accurate contact information must be provided with the registration. This information is made public through a WHOIS search. When you purchase "Domain Privacy Protection," HostGator will keep this information private for you.

5. In the section titled "2. Choose a Hosting Plan," do the following:
Make sure the correct package type is selected.
Choose your billing cycle. The more months you pay for ahead of time, the better the deal.
Create a username
Create a security PIN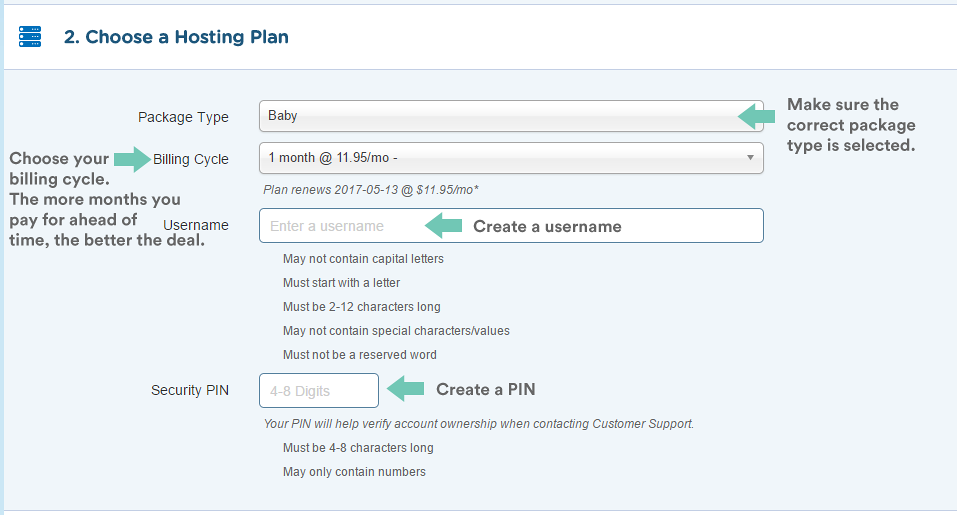 6. In the section titled "3. Enter Your Billion Info," fill out the form with your billing information.
7. In the section titled "4. Add Additional Services," make sure you check or uncheck any boxes for products that you want or do not want.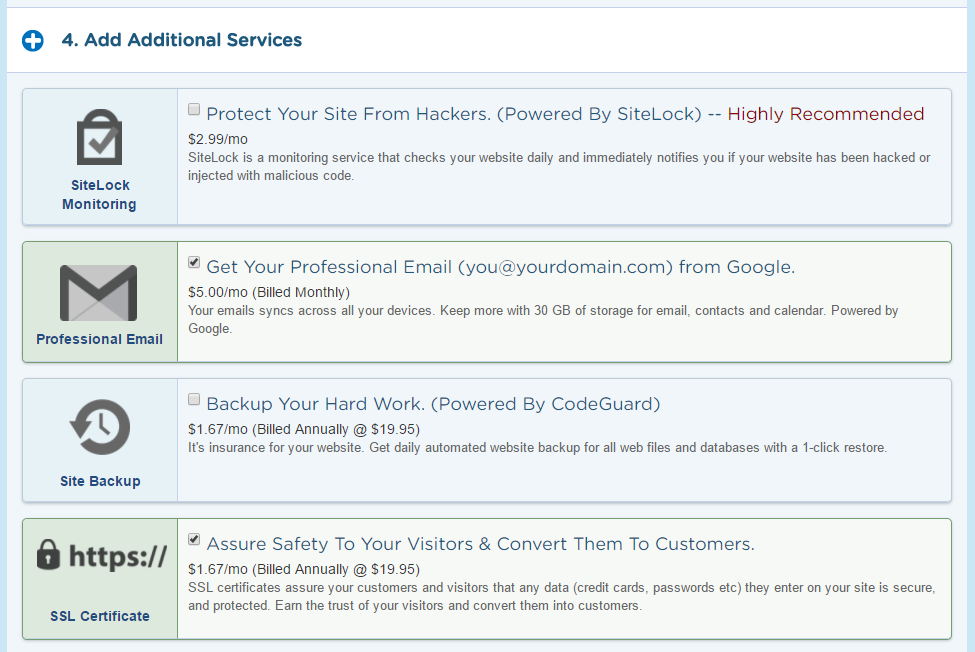 a. SiteLock Monitoring: I do not recommend this service. There are free WordPress plugins available for protecting your blog.
b. Professional Email: If you plan on sending out emails to your newsletter subscribers in the near future, this is a good investment. Email marketing services require that you use a professional email ([email protected]) in order to send out newsletters. You will automatically receive a professional email when you purchase hosting, however, this add-on allows you to manage your email through Google (Gmail). I use this service for my business and I love it.
c. Site Backup: I do not recommend this service. There are free WordPress plugins available for backing up your blog.
d. SSL Certificate: Select this add-on if you've decided to add an SSL certificate to your blog.
8. After filling out the form all of the required information, agree to the terms at the bottom of the page and click on "Checkout Now!"

9. Once your form is submitted, HostGator will send you an email that includes your billing account information (where you manage your billing), and your cPanel URL (where you log in to your hosting account).
---
---
Step 3. Connecting a Previously Purchased Domain (Optional)
If you have purchased your domain name and hosting from two separate websites, then you will need to change the nameservers for your domain name. Changing your nameservers will connect your domain name to your hosting account (your blog).
Because GoDaddy is a popular website for buying domain names, I will use them as an example for the sake of this tutorial. Here's how you connect your GoDaddy domain nameservers to your hosting provider (HostGator):
1. Log in to your GoDaddy account.
2. Click on the down-pointing arrow next to your name and select "Manage My Domains."

3. Find your domain name, click on the down-pointing arrow and select "Manage DNS."

4. Scroll down to the "Nameservers" section and click on "Change."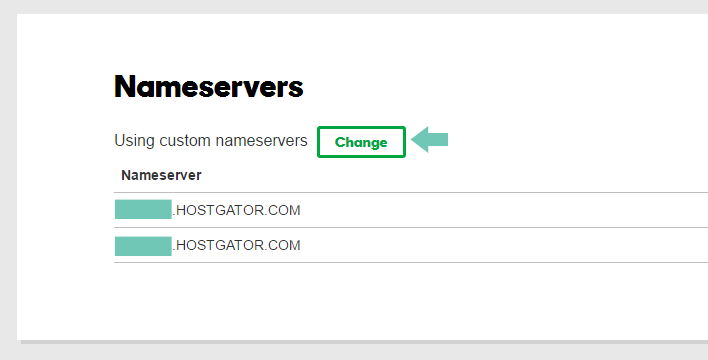 5. In the dropdown box that says "Choose your new nameserver type," select select "Custom." Then place your HostGator (or whoever your host is) nameservers in the two boxes.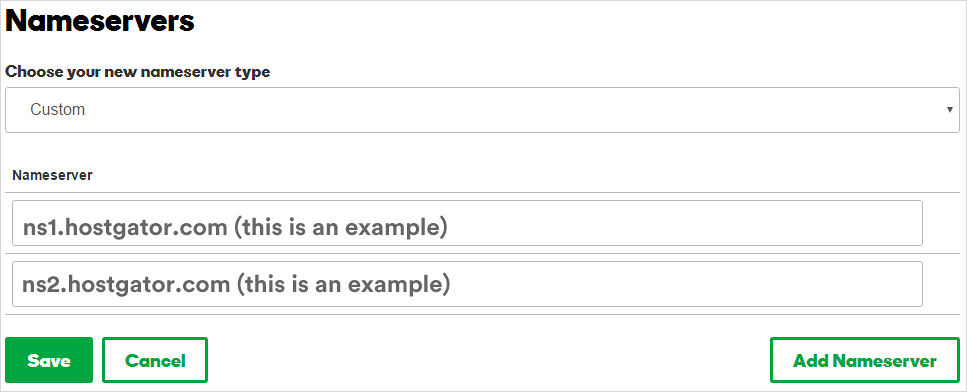 You can find your nameservers in the email that HostGator sent to you after you purchased your hosting. You can also log in to your HostGator cPanel and find your nameservers under the "General Information" box on the right-hand side of the page. Your nameservers will look something like this:
ns1.hostgator.com
ns2.hostgator.com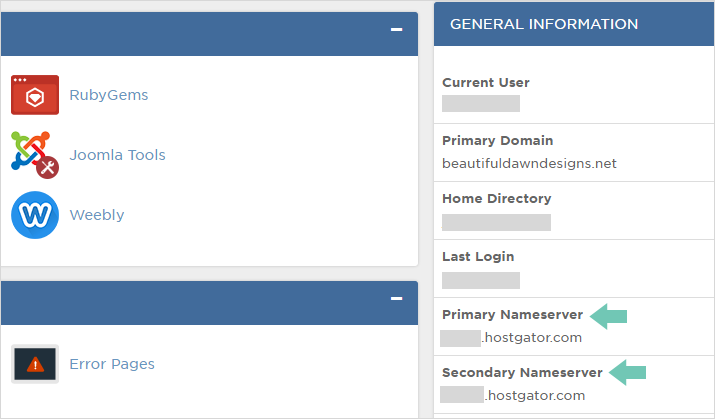 6. Save your changes.
Keep in mind that when changing your nameservers, it can take up 24 hours before your changes take effect. I've never had to wait more than an hour.
---
---
Step 4. Install WordPress
Once your domain name and hosting are properly set up, it's time to install WordPress. You won't believe how easy it is to install WordPress.
1. Log in to your hosting cPanel.
2. Once logged in, under the "Popular Links" section, click on "WordPress – 1 Click Installation."

3. Select your domain name in the "Select Domain for Installation" drop down box. Click on "Next." You can leave the "directory" box blank.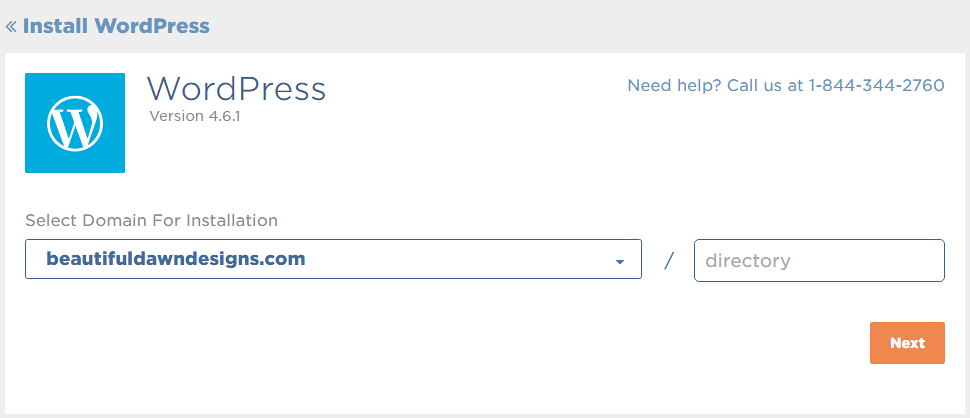 4. Fill out all the fields, then click on "Install Now."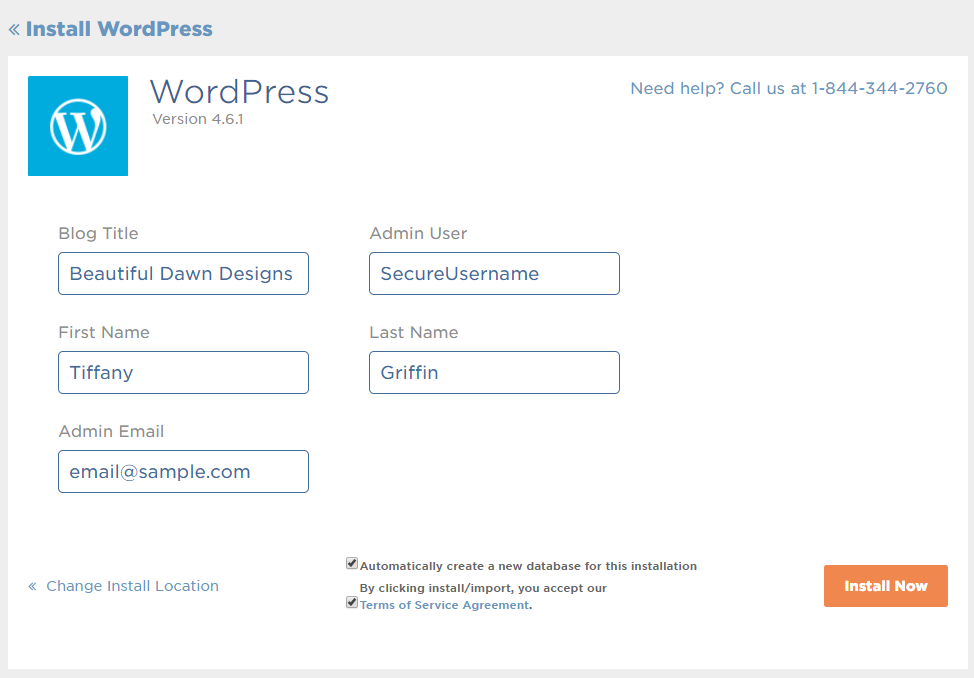 Once WordPress is installed, you will receive a message stating that WordPress has been successfully installed. You should also see a link within this message that directs you to your new blog. If the link doesn't work right away, that's okay. It may take a few minutes (up to 30 minutes). Your password will be sent to the email address you provided as your "Admin Email."
---
---
Step 5. Login To Your WordPress Blog
1. Log in to your newly installed blog by going to yourdomain.com/wp-admin/. The login screen will look like this: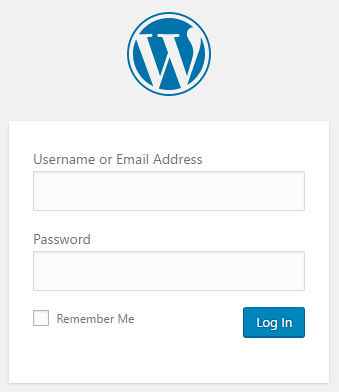 Once logged in, you will have access to your WordPress dashboard area. Take a look around, and make yourself comfortable. It may be confusing at first, but you'll get the hang of it. Here's a look at the dashboard:
Note: I recommend downloading the free Easy WP Guide. You can download the PDF, or access the information straight from the website, here. This free guide is a great resource for learning WordPress.
---
---
Step 6. Choose a WordPress Theme
This is the fun part. It's time to make your blog pretty! I can't bring up WordPress themes without mentioning our collection of feminine WordPress themes. All of our themes are unique, simplistic, and highly customizable. You can change the themes fonts, colors, and more without ever having to touch any code.
Also, if you're one of our newsletter subscribers, you can download the basic version of our best-selling theme Enamored free of charge.
Of course, there are so many options out there when it comes to choosing a WordPress theme.
A simple Google search will provide you with tons of themes to choose from. Just take your time and make sure you're choosing a theme that's right for you.
Some of my recommendations are:
Whatever theme you choose, it should include instructions for installing and setting up the theme. As a general tutorial, however, themes are uploaded in your wp-admin, by going to Appearance > Themes > Add New.
---
---
Step 7: Install Google Analytics
Google Analytics is a free website traffic analytics service created by Google. When it comes to website traffic analytics, Google Analytics is the industry standard.
I know a lot of times bloggers want to use the JetPack plugin to track of their analytics. I get why. I actually used to use JetPack to track my website stats. It was easy to set up, use, and understand. However, I don't recommend using JetPack to track your statistics. Not only does Google analytics provide a more accurate and detailed traffic report, but if you ever plan to work with sponsors or ad networks, they will typically request your Google Analytics statistics.
Installing Google Analytics
There are two ways you can go about installing Google Analytics. The first method involves taking a tracking code provided to you by Google Analytics and pasting it in your themes header.php file. The second method involves installing the MonsterInsights Google Analytics plugin. I've tried both methods, and prefer the plugin method. This method is beginner friendly and allows you to easily activate additional Google Analytics features.
Before you can install Google Analytics, you must first create a Google Analytics account. You must also set up a property, which Google shows you how to do. Once you've done those two things, you can continue on with the tutorial.
1. In your WordPress dashboard, go to Plugins > Add New.

2. Search for the Google Analytics by MonsterInsights plugin and click on "Install Now." Then, click on "Activate."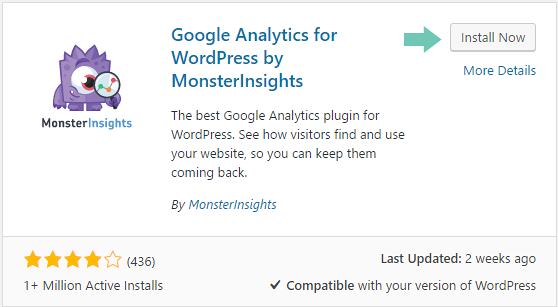 3. Once activated, in your dashboard, go to Insights > Settings.

4. In the General tab, click on "Authenticate with your Google account."

5. A popup will appear asking for permission to view your Google Analytics data. Click on "Next."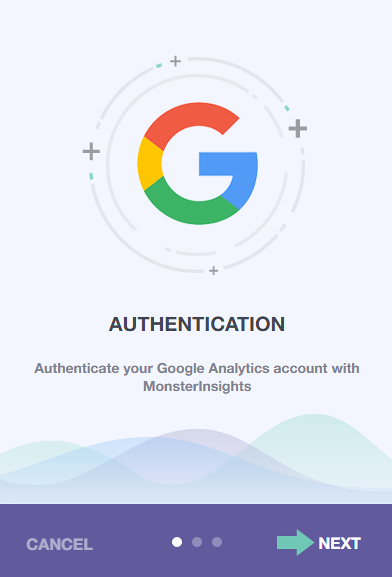 6. Once you click Next, you'll then be shown a box that asks you to enter your Google code. Click on the box titled "Click to Get Google Code." After clicking this box, you will be directed to your Google account.
7. Click "Allow," when prompted to allow MonsterInsights permission to view and manage your Google Analytics Data.
8. You will then see a message with an alphanumeric code. Copy the entire code and paste it in the box below the text "Copy the Google code into the box below and click next." After you paste the code into the box, click "Next."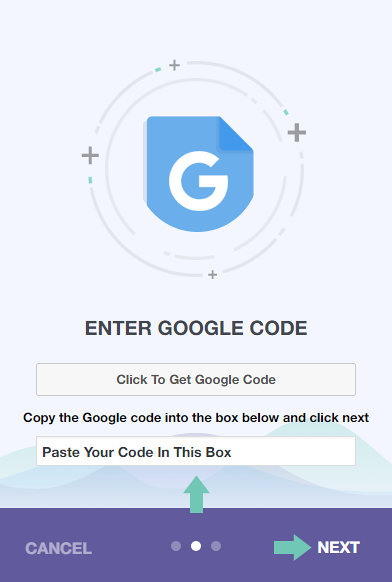 9. From the drop-down box, select your profile and click "Next."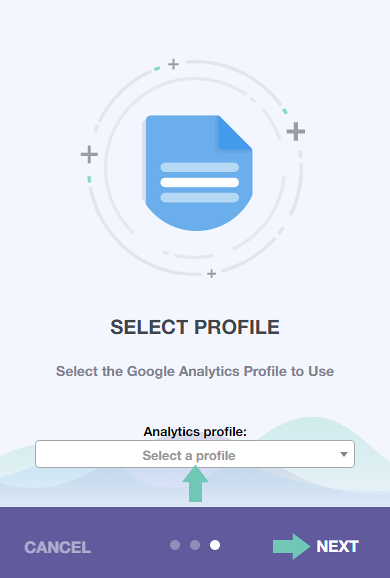 10. If everything worked correctly, you'll receive a message that says "Done, you're all set!" You can close this box. You have successfully set up Google Analytics. You can access you full analytics report by going to the Google Analytics website.
**If you had trouble authenticating your account, continue on to the next step in this tutorial (Step 7a).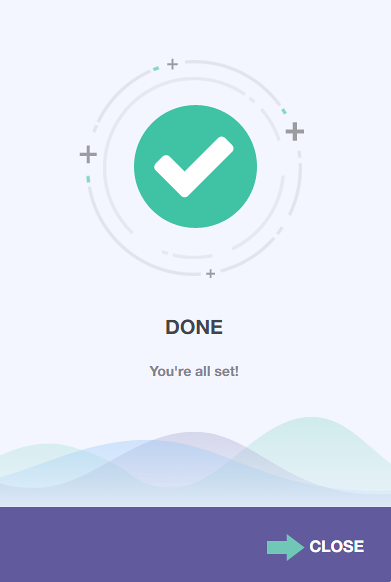 Step 7a: Alternative Method for Authenticating Your Account
If the above method didn't work for you, you can authenticate your account manually.
1. Instead of clicking on "Authenticate with your Google account," click on "Click here to authenticate manually."

2. Open a new tab or window in your browser and go to your Google Analytics profile (Admin > Property > Property Settings).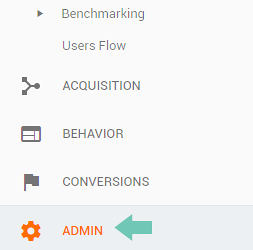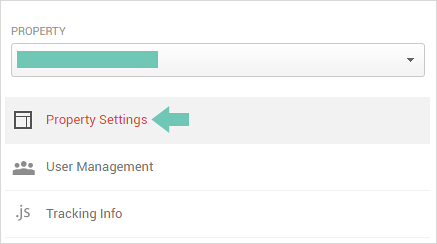 3. Under Basic Settings > Tracking Id, you'll find your UA code. Copy this code.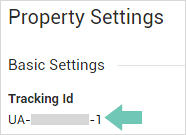 4. Back in your dashboard, paste your UA code into the box that says "Manually enter your UA code." Being sure to save your changes. You can access you full analytics report by going to the Google Analytics website.
Step 7b: Removing Yourself From Google Analytics Data
By default, the MonsterInsights plugin will not track visits from your blogs administrator (you) or editor. However, if you'd like to block your home IP address from being tracked by Google, this can be done pretty easily.
1. If you don't know your IP Address, visit the website What's My IP and copy your IP address from the top of the page.

2. Go to your Google Analytics profile and navigate to Admin > View > Filters.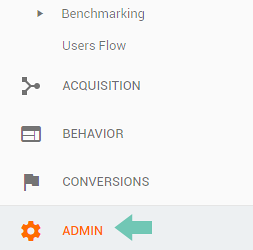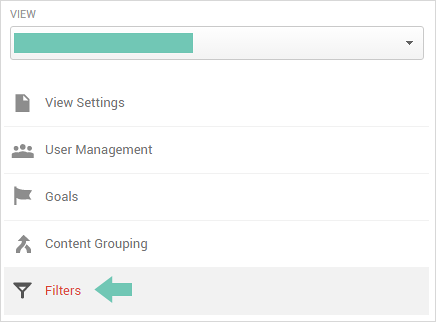 3. Click on the red + Add Filter button.

4. Input the following:
Filter Name: Home IP
Filter Type: Custom > Exclude > IP Address
Filter Pattern: Paste your IP address in this box. Save your changes.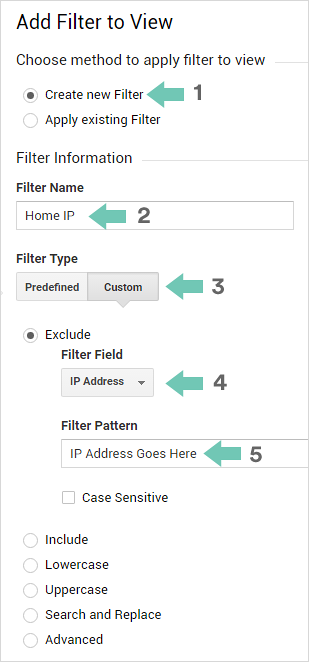 After completing these steps, Google Analytics will no longer track your home IP page views.
---
---
Step 8: Set up Google Search Console
Google Search Console (formally Google Webmaster Tools) is a free service provided by Google that allows you to check the indexing status of your blog and allows you to see the keywords that people are using to find your blog in the Google search engine.
You can't rely on Google Analytics for this information, because most of the time, your keywords will show up as "not provided" in your analytics. I highly recommend setting up Google Search Console if you want to track and analyze your keywords data.
1. Install and activate the Yoast SEO plugin.
Once you have your plugin activated, the first thing you should do is go to SEO > Dashboard > Features and enable the "Advanced settings page" tab. Save your changes. This will activate the additional features.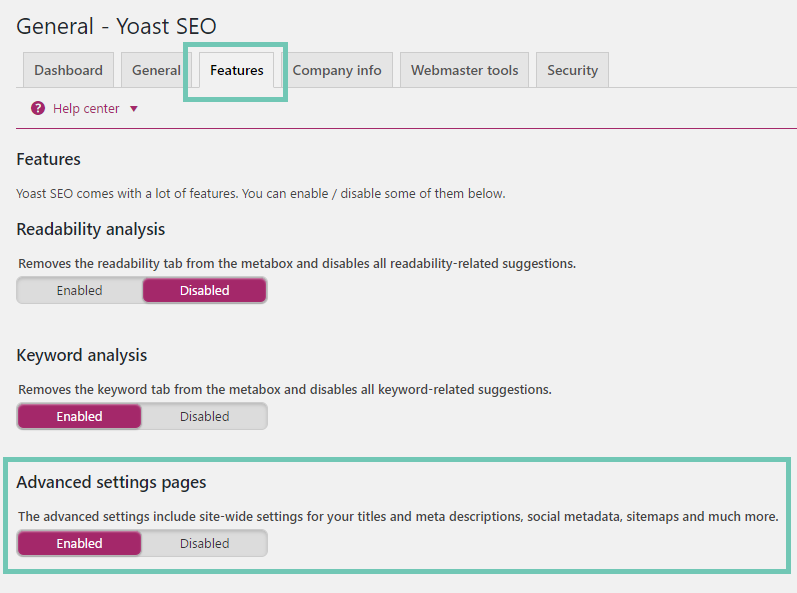 2. In your WordPress Dashboard, go to SEO > Dashboard and click on the Webmaster Tools tab. Leave this window open.

3. In a new window, go to the Google Search Console website and sign in to your Google account.
4. Type your domain name in the box and click on Add a Property to add your blog. Make sure you include http or https (if you have an SSL certificate) before your domain. For example: http://beautifuldawndesigns.net or https://beautifuldawndesigs.net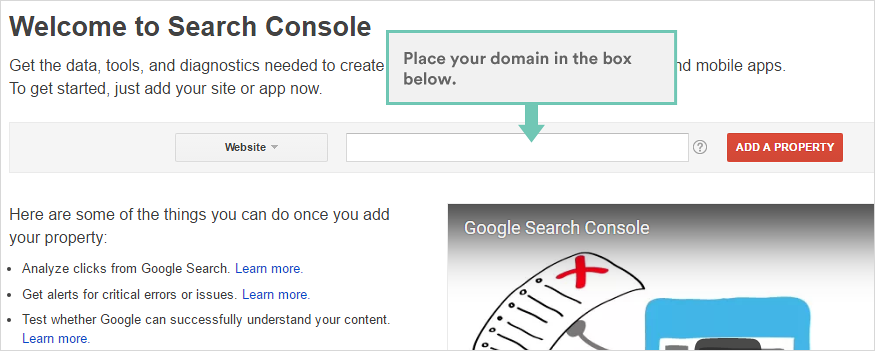 5. On the next screen, click on Alternate Method and select HTML tag. Only copy the code that's provided withiin the HTML tag.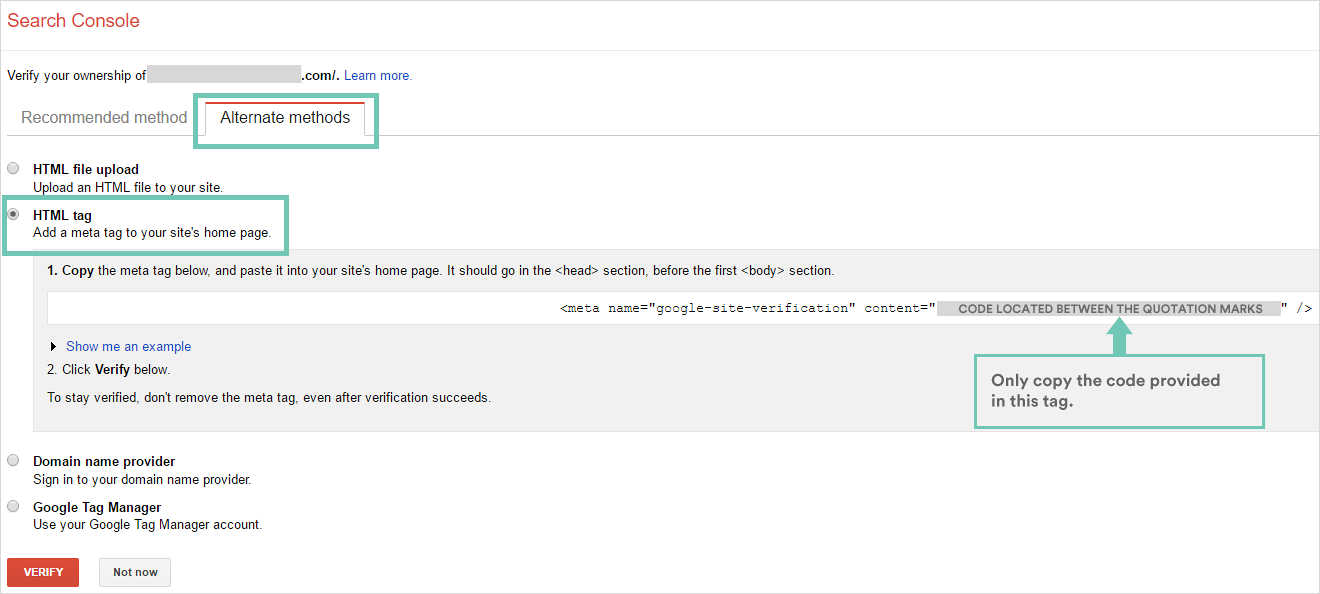 6. Leaving this window open, go back to the Yoast SEO window and paste the code in the Google Search Console box. Save your changes. You can close this window.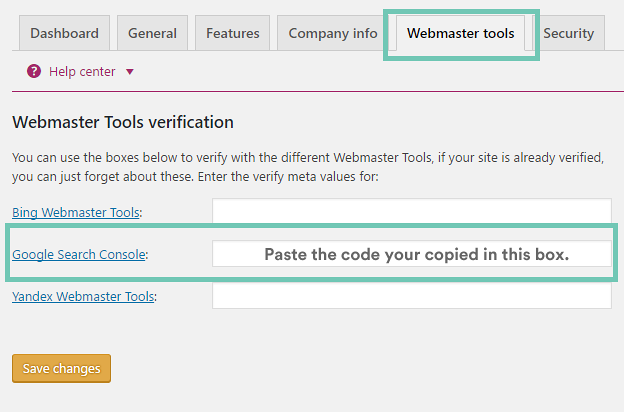 7. Go back to the Search Console window and click on Verify. You should receive a notification that your blog has been verified.

Step 8a: Adding Your Sitemap to Google Search Console
A sitemap helps search engines like Google, Yahoo, and Bing better index your blog. Install and activate the Google XML Sitemaps plugin to easily add a sitemap to your blog.
1. To add your sitemap to Google Search Console, in your search console, go to Crawl > Sitemaps.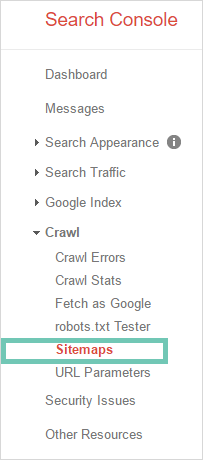 2. Click on the Add/Test Sitemap button. Next, type sitemap.xml into the box and click on "Submit."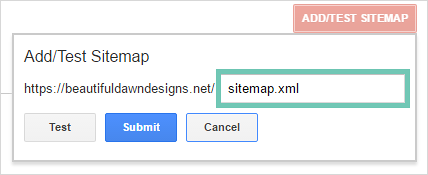 Congratulations, your blog has now been connected to Google Search Console.
---
---
Step 9. Conclusion
That's it. You totally just learned how to create your own blog! Was it as difficult or easy as you thought it would be?
There will be some learning curves along the way, but anything worth having involves a little bit of work. You will be a pro at this thing in no time. Let me know how everything goes for you. Good luck!
Learn How I Grew My Blog
The Blogging Blueprint is my online course for bloggers.
What you will learn in this course are tried-and-true strategies for growing your blog the RIGHT way. You'll learn:
How to choose your blogging niche

How to write content that keeps your audience coming back for more

The simple trick I used to MAKE a blog post go VIRAL

How to build relationships with other bloggers

How to increase your blog traffic

How to get your content to rank in search engines

How to earn money with your blog

and much more…
You have what it takes to be a successful blogger. If you have a feeling that The Blogging Blueprint could help you grow a successful blog, then you owe it to yourself to at least check it out.