Update: HostGator currently has a deal that gives you your domain name, web hosting and email starting at $3 a month. This is a great deal!
Do you want to know how to start a lifestyle blog? Then you're in the right place because today I'm going to show you how to start a lifestyle blog for beginners using the self-hosted WordPress platform.
What is a Lifestyle Blog?
We know that a food blog focuses on recipes, and a fashion blog focuses on fashion, but what exactly is a lifestyle blog? A lifestyle blog is blog that focuses on your daily interests. That means a lifestyle blog could include a bunch of different niches rolled into one. For example, your lifestyle blog could be about the following:
Food
Fashion
DIY and Crafts
Home Decor
Parenting
Relationships
etc.
I think that lifestyle blogs are great because you don't have to put yourself in a box. Having a lifestyle blog allows you to blog about multiple topics that interest you, instead of just one.
Table of Contents

If you're ready to get started, here are the 9 steps we will cover in this tutorial. To jump to a step, click the link below.
---
---
Step 1. Choose Your Domain Name
When choosing your domain name, ask yourself these questions:
Does it reflect my brand or personality? Can you see yourself building your brand around this name?
Is it available on all of the popular social networking sites?
Is it trademarked?
Is it too long? You want your domain name to be some something that is easy to remember as well as type. I recommend avoiding hyphens and numbers (for example: tiffany-blogs4you.com).
Does it have longevity? Is this a name you'll love for years to come? You may be blogging as a hobby now, but what about if your blog gets big. Will you be happy with this name?
---
---
Step 2. Purchase Your Domain Name and Hosting
For hosting, I can't recommend HostGator highly enough. This is the web host I use for Beautiful Dawn Designs. I have always received great customer service from them. You are free to choose any host, however, for the sake of this tutorial we will be working with my host, HostGator.
#1. Head over to HostGator and click on Hosting > Web Hosting near the top of the page.
#2. Choose the hosting plan that best suits your needs.
#3. Once you've chosen your plan, click on "Sign Up Now!"

#4. To register your domain, in the section titled "1: Choose a Domain," enter your desired domain name.
Note: If you're already purchased your domain name, I'll show you how to connect it to your new blog in Step 3. If you already have your domain name, you can ignore the Choose a Domain section and purchase hosting only.

After selecting your domain name, you will be asked if you want to purchase "Domain Privacy Protection." This is optional. Whenever a domain is registered, accurate contact information must be provided with the registration. This information is made public through a WHOIS search. When you purchase "Domain Privacy Protection," HostGator will keep this information private for you.

#5. In the section titled "2. Choose a Hosting Plan," do the following:
Make sure the correct package type is selected.
Choose your billing cycle. The more months you pay for ahead of time, the better the deal.
Create a username
Create a security PIN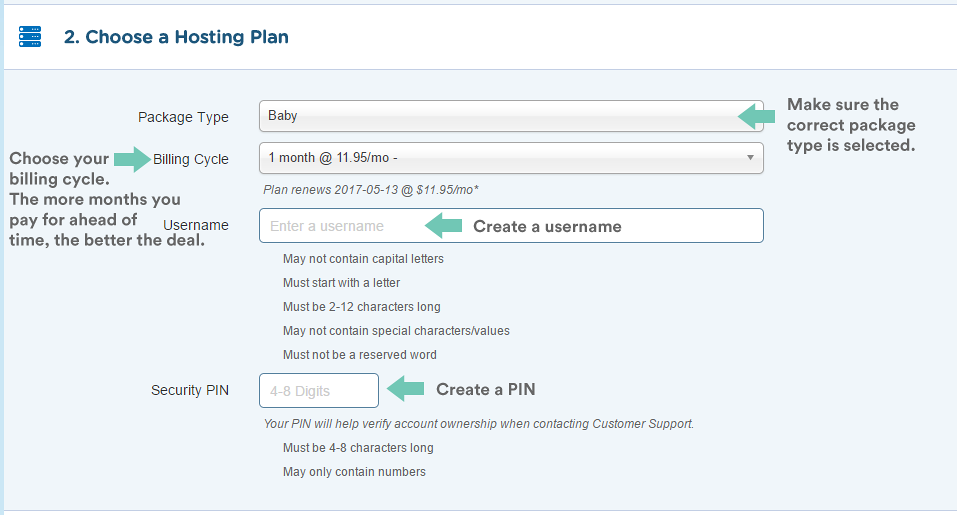 #6. In the section titled "3. Enter Your Billion Info," fill out the form with your billing information.
#7. In the section titled "4. Add Additional Services," make sure you check or uncheck any boxes for products that you want or do not want.
#8. After filling out the form all of the required information, agree to the terms at the bottom of the page and click on "Checkout Now!"
#9. Once your form is submitted, HostGator will send you an email that includes your billing account information (where you manage your billing), and your cPanel URL (where you log in to your hosting account).
---
---
Step 3. Connecting a Previously Purchased Domain (Optional)
If you have purchased your domain name and hosting from two separate websites, then you will need to change the nameservers for your domain name. Changing your nameservers will connect your domain name to your hosting account (your blog).
Because GoDaddy is a popular website for buying domain names, I will use them as an example for the sake of this tutorial. Here's how you connect your GoDaddy domain nameservers to your hosting provider (HostGator):
#1. Log in to your GoDaddy account.
#2. Click on the down-pointing arrow next to your name and select "Manage My Domains."

#3. Find your domain name, click on the down-pointing arrow and select "Manage DNS."

#4. Scroll down to the "Nameservers" section and click on "Change."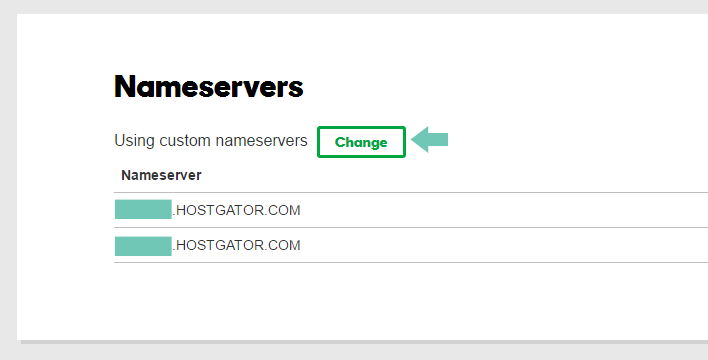 #5. In the drop-down box that says "Choose your new nameserver type," select select "Custom." Then place your HostGator (or whoever your host is) nameservers in the two boxes.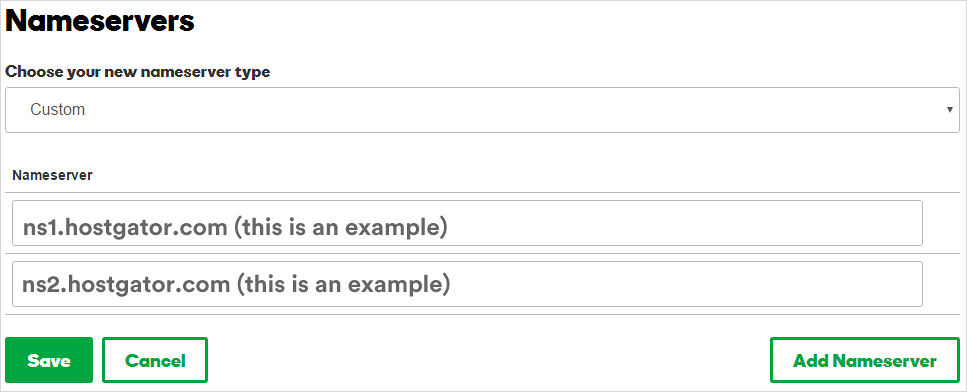 You can find your nameservers in the email that HostGator sent to you after you purchased your hosting. You can also log in to your HostGator cPanel and find your nameservers under the "General Information" box on the right-hand side of the page. Your nameservers will look something like this:
ns1.hostgator.com
ns2.hostgator.com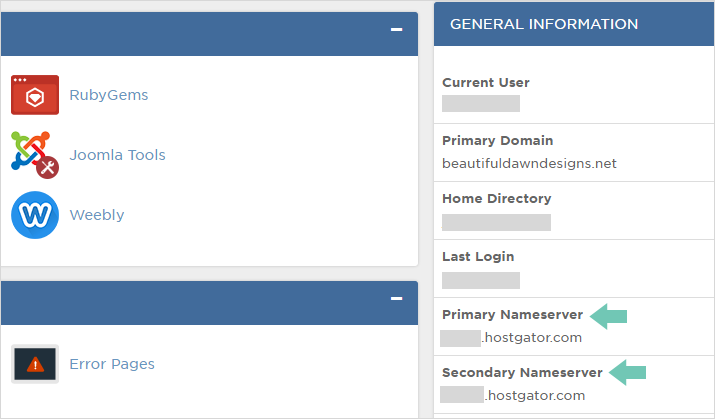 #6. Save your changes.
Keep in mind that when changing your nameservers, it can take up 24 hours before your changes take effect. I've never had to wait more than an hour.
---
---
Step 4. Install WordPress
Once your domain name and hosting are properly set up, it's time to install WordPress. You won't believe how easy it is to install WordPress.
#1. Log in to your hosting cPanel.
#2. Once logged in, under the "Popular Links" section, click on "WordPress - 1 Click Installation."

#3. Select your domain name in the "Select Domain for Installation" drop-down box. Click on "Next." You can leave the "directory" box blank.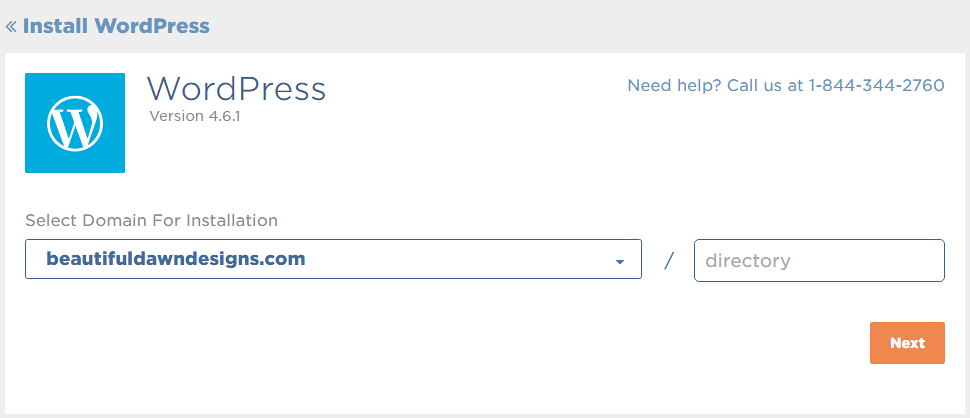 #4. Fill out all the fields, then click on "Install Now."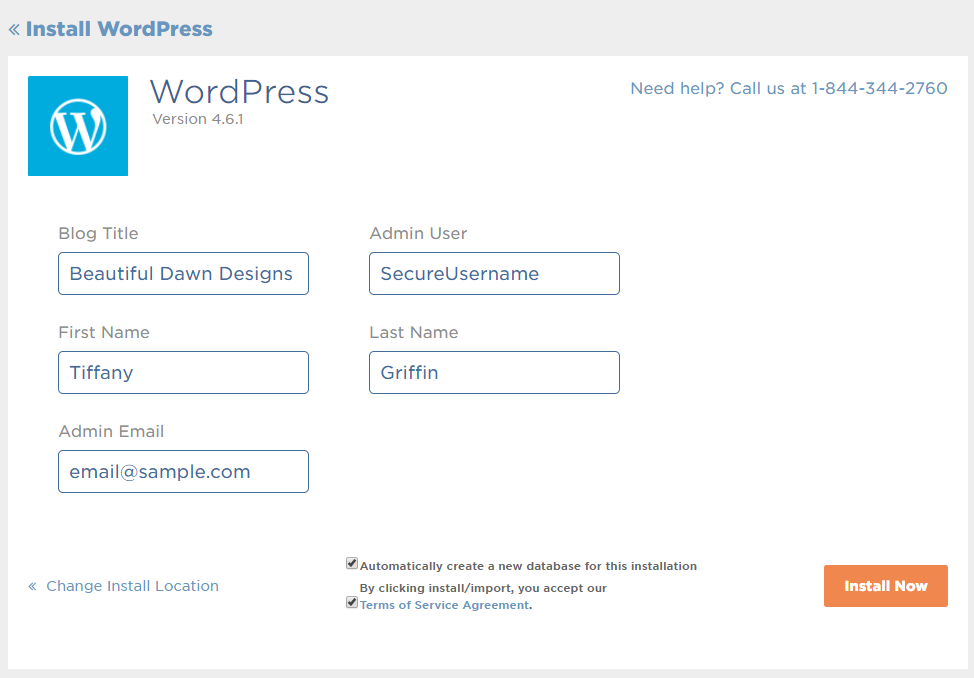 Once WordPress is installed, you will receive a message stating that WordPress has been successfully installed. You should also see a link within this message that directs you to your new blog. If the link doesn't work right away, that's okay. It may take a few minutes (up to 30 minutes). Your password will be sent to the email address you provided as your "Admin Email."
---
---
Step 5. Login To Your WordPress Blog
#1. Log in to your newly installed blog by going to yourdomain.com/wp-admin/. The login screen will look like this: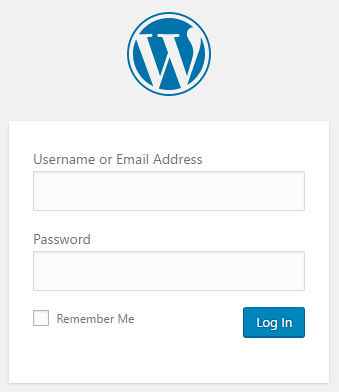 Once logged in, you will have access to your WordPress dashboard area. Take a look around, and make yourself comfortable. It may be confusing at first, but you'll get the hang of it. Here's a look at the dashboard:
---
---
Step 6. Choose a WordPress Theme
This is the fun part. It's time to make your blog pretty! I can't bring up WordPress themes without mentioning our collection of feminine WordPress themes. All of our themes are unique, simplistic, and highly customizable. You can change the themes fonts, colors, and more without ever having to touch any code.
Also, if you're one of our newsletter subscribers, you can download the basic version of our best-selling theme Enamored free of charge.
Of course, there are so many options out there when it comes to choosing a WordPress theme.
A simple Google search will provide you with tons of themes to choose from. Just take your time and make sure you're choosing a theme that's right for you.
Some of my recommendations are:
---
---
Step 7. Making Money With Your Blog
With a lifestyle blog, there are a lot of different ways you can make money with your blog.  If you want to begin earning money with your lifestyle blog, I'm going to share 5 ways you can start making money.
#1. Affiliate Marketing
As a lifestyle blogger, you can earn money through affiliate marketing by joining affiliate programs, and promoting merchants products. Each time someone purchases a product through your unique affiliate link, you will earn a commission (the commission is determined by the merchant).
To find affiliate programs to join, check out my post 15+ Affiliate Programs for Bloggers.
Also, I recommend reading my article about the Making Sense of Affiliate Marketing course by my friend Michelle Schroeder-Gardner. She earns $50,000 a month in affiliate income alone. After taking her online course, my affiliate income increased by over 3,150% (see my income chart below)! I can't recommend her course highly enough.
#2. Ads
Placing Ads on your blog is one of the quickest and easiest ways to begin earning money.  If you're interested in placing ads on your blog, check out my post Top 5 Ad Networks for Bloggers.
#3. Sponsored Posts
A sponsored blog post is a post that you're paid (or given a free product) to publish on your blog. If you're interested in monetizing your blog by publishing sponsored posts, here are a few places you can look:
#4. Direct Advertising on Your Blog
With direct advertising, you'll be selling ad space directly from your blog (usually to other bloggers) by charging an upfront fee based on how long the ad will be placed on your blog.
At one point, this was a popular way to earn money with your blog. I'm not seeing this method being used as much as I once did, but I still think that selling advertising on your blog can be a good way to earn some extra cash.
#5. Sell Your Own Product or Service
I believe that this is the best way to earn money with your lifestyle blog. You can be dropped by an ad or affiliate network, but no one can ever take away your product or service. Plus, selling your own product always you make money by doing what you love and helping others at the same time.
Here are some ideas for products and services you can offer on your lifestyle blog:
Ebooks
Printables
Freelance Writing
Online Courses
---
---
Conclusion
That's it. You totally just learned how to start your own blog! Was it as difficult or easy as you thought it would be?
There will be some learning curves along the way, but anything worth having involves a little bit of work. You will be a pro at this thing in no time. Let me know how everything goes for you. Good luck!